At a glance
GETEC is a leading energy provider and energy service contracting specialist for the industry and the real estate sector in Germany and Europe. Our value proposition "We have the energy for more" is the guiding principle for more than 2,000 employees at some 50 locations. They guide our customers through an increasingly complex energy world with excellent engineering skills, regulatory competence, proven swiftness of action and comprehensive sustainability expertise. We see ourselves as our customers' partner for smart, efficient and green energy solutions. After all, sustainability, efficiency, economic viability and the protection of our resources have been firmly entrenched in our DNA all along. We help our clients improve their carbon footprint, with a keen eye on the future – for the generations to come.
GETEC in numbers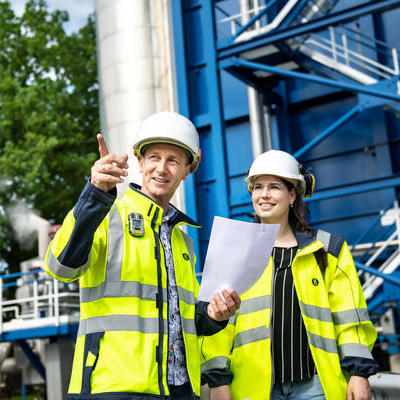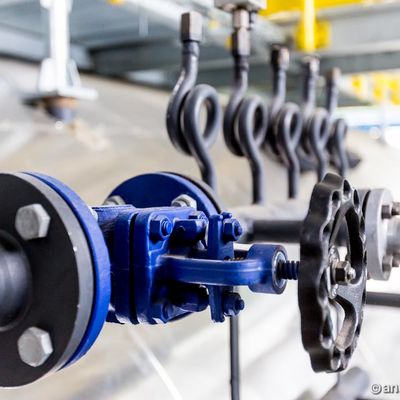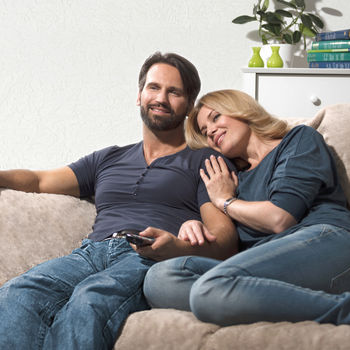 1,000,000
people
supplied with heat, refrigeration and electricity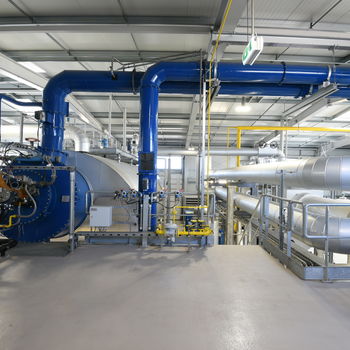 5.4+ GW
total plant output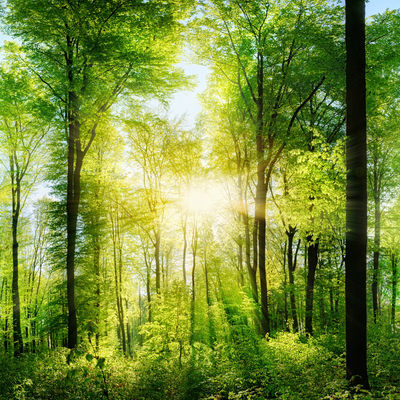 29 percent+
proportion of generated renewable energy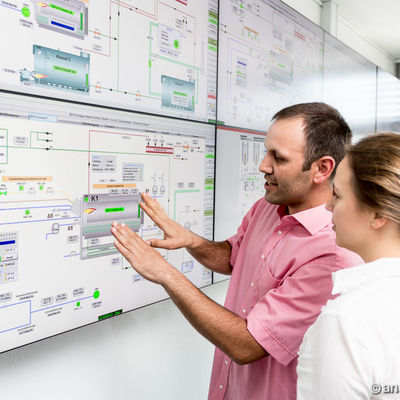 24/7
service control station
for our customers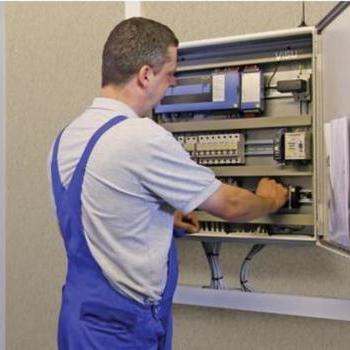 750+
service employees
in action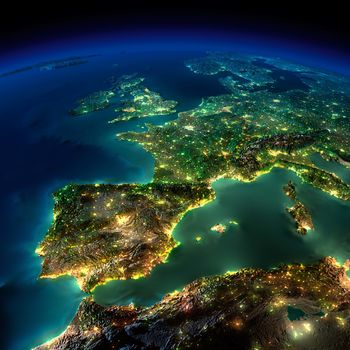 GETEC Group
The GETEC Group is your first choice for decentralised energy supply solutions and a leader in energy service contracting and for energy efficiency measures. The companies of the GETEC Group are doing business under the parent company G+E GETEC Holding GmbH. The Swedish company EQT is the principal company of G+E GETEC Holding GmbH and holds almost 75 percent of the company's shares. The company's remaining shares are held by GETEC Energie Holding GmbH.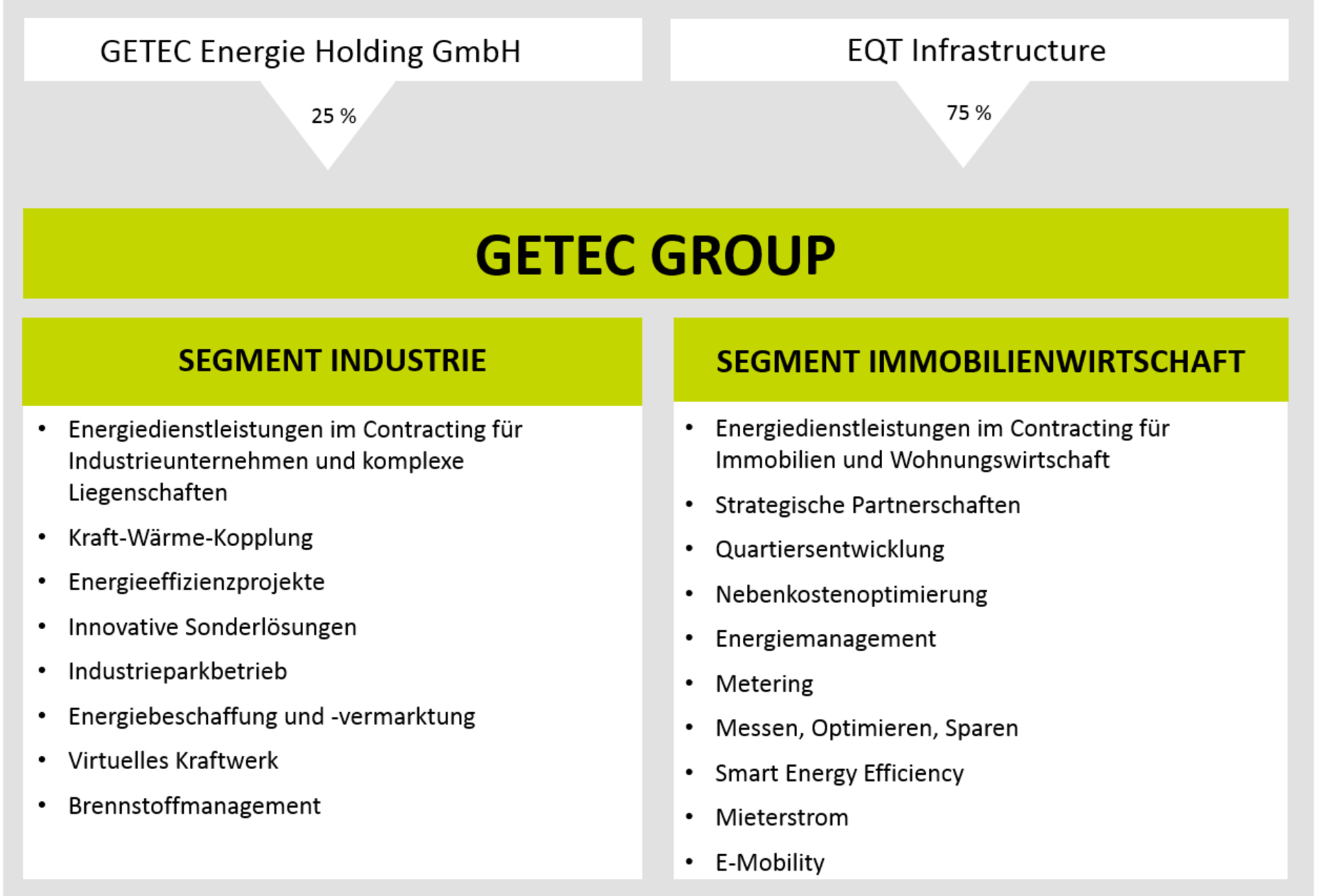 The organisation of the GETEC Group is clearly aligned with the orientation and focus of our customer groups – the industry and the real estate sector. In fact, the customer is the focus of our reasoning and actions rather than individual technology sectors. As a result, GETEC acts as a single contact – a one-stop shop – for our customers for everything that matters to them. To be able to fulfil this claim of a comprehensive customer focus and a one-stop approach, GETEC is continually expanding its service offerings with important abilities along our customers' value chain through strategic cooperation partnerships with well-known companies.
GETEC international
Based on four comprehensively positioned regional platforms, GETEC is active in nine European countries. The GETEC Group's regional platforms provide the basis for offering and developing sustainable and smart energy solutions for our local customers - with the highest degree of flexibility and proximity to the customer while maintaining a high level of regulatory and technical expertise in the respective market environment. As a competence center, each platform has special technological and regulatory capabilities that develop appropriate customer solutions for the entire Group.

Executive board
Thomas P. Wagner
Group CEO and CEO of Industrial Segment
Thomas P. Wagner has over 25 years of experience from a number of European and global companies. Most recently he served as CEO of Dorma, one of the world's leading providers of access solutions. Before that he was CEO at OTIS Deutschland, one of the largest manufacturers of lifts and escalators. Before taking up his position as CEO, he was responsible for various supervision and management tasks at the company in Germany and abroad. Since 1 May 2017, Thomas P. Wagner has been the CEO of G+E GETEC Holding GmbH and since 1 April 2018 additionally the CEO for GETEC's Industrial Segment.
Heiko Laubheimer
Group CFO
Heiko Laubheimer was CFO of the Bartec Group for more than four years, a world market leader in explosion protection. Prior to that he worked as CFO and commercial manager at Intersnack and Gardena, in the latter case as a senior manager at the Husqvarna Group. Heiko Laubheimer began his professional career at Arthur Andersen, a consulting and auditing company. Since 1 May 2017, Heiko Laubheimer has been the CFO of G + E GETEC Holding GmbH and its affiliates GETEC heat & power GmbH, GETEC WÄRME & EFFIZIENZ GmbH and GETEC media GmbH.
Michael Lowak
CEO of Real Estate Segment and CEO of GETEC WÄRME & EFFIZIENZ GmbH
Michael Lowak has been the CEO of GETEC WÄRME & EFFIZIENZ GmbH (GWE) since 1 August 2015. After earning a degree in mechanical engineering, he was first hired by Braun AG as product manager; between 1999 and 2009, he was tasked with setting up the energy service business at MVV Energie, taking on the role of CEO starting in 2003. From 2010 to 2013 Mr Lowak was a member of the management board of Kofler Energies AG, from November 2010 he served as the chairman of the board of management. In 2013 he joined the board of GETEC WÄRME & EFFIZIENZ. He has been the CEO of the company since 2015.
Udo Lackner
Group Chief Operating Officer
Nach seinem Studium zum Diplomingenieur sowie zum Diplom Wirtschaftsingenieur mit Schwerpunkt Maschinenbau an der RWTH Aachen war Udo Lackner für verschiedene internationale Beratungsgesellschaften tätig. Dort fungierte er unter anderem als Vice President bei der Capgemini Deutschland. Im Jahre 2000 war er als Geschäftsführer für ein Start-up der Metro Gruppe erfolgreich aktiv. Neben GETEC zählten u.a. auch BASF, Nokia, SBB, DHL, Lanxess und auch RUAG zu seinen Kunden. Udo Lackner begleitet GETEC bereits seit Mitte 2017 im Wachstumsprozess und bei allen Themen rund um Operations. Seit dem 01.12.2018 verstärkt Udo Lackner die Geschäftsführung der G+E GETEC Holding GmbH als Chief Operating Officer der GETEC Group.
History

GETEC logo of the 1990s
The energy service provider GETEC was founded by Dr Karl Gerhold in May 1993 in Magdeburg with the name GETEC Gesellschaft für Energietechnik und –management. Initially, the company developed heating solutions for the housing industry. Energy solutions for industrial clients were added later on. The liberalisation of the gas and energy market opened up further market opportunities, in the context of which the company continually expanded the range of its energy services.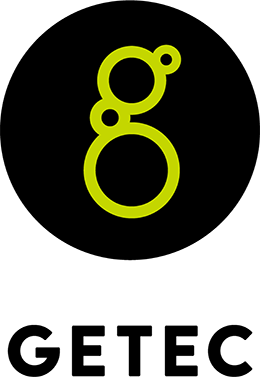 GETEC Group Logo of today
In recent years, GETEC has evolved to become the leading supplier of energy solutions in Germany and beyond. For good reason: With excellent regulatory expertise, proven speed of action and versatile engineering skills, we have been a successful outsourcing and joint venture partner for customers for a quarter of a century by now, since 2017 under the new parent company G+E GETEC Holding GmbH with the Swedish investor EQT as majority shareholder. In so doing, GETEC is more than ever committed to a future worth living for, developing smart and customised energy solutions characterised by an excellent sustainability performance for its customers.
Frequent regulatory reforms and rapid technological advances have additionally resulted in a profound transformation of the energy industry. Stand-alone and decentralised supply systems as well as dealing with the volatile generation of renewable energies are just two of the main challenges. GETEC has permanently and successfully expanded its range of service offerings in this context. The acquisition of the former Imtech Contracting GmbH, the EMMTEC industrial park, URBANA, the former Apleona Efficiency GmbH and the former Bayernfonds Best Energy GmbH enabled GETEC to successfully pursue its growth trajectory even in a turbulent market environment.
We embody partnership –
find your counter­part.
With close to 50 locations throughout Germany and Europe, we are always at your doorstep.
Contact us. We are here for you.