INFRASTRUCTURE SERVICES
FOR MULTI-CLIENT SITES
FULL-SERVICE PACKAGE FOR MULTI-CLIENT SITES
Industrial sectors including chemicals, polymers and pharmaceuticals are in a state of upheaval. Today, many large companies are primarily focused on their core business. These customers need strong and competent outsourcing partners like GETEC for the provision of necessary infrastructure such as media supply, wastewater treatment, analysis or parking services. GETEC's service offering applies a comprehensive approach to multi-client sites. Synergy effects are created between the companies through the integrated site model, efficiency measures are implemented and savings potential is leveraged.
MANY YEARS OF EXPERTISE
Energy supply is an important site factor in the industrial park. GETEC has specific expertise and many years of experience in the energy services sector. To optimize the energy supply and leverage energy efficiency potentials, it often makes sense to assume responsibility for the site's existing or new energy generation plants and to optimize them. The supply of primary energies such as heat and electricity is also offered through structured purchasing by GETEC. Another focus is the generation of efficiency measures for the industrial site to improve the economic and energy situation of the companies. The customer's production process is analyzed for energy saving potentials and these are evaluated, bundled and utilized. To this end, GETEC contributes experience from the recovery of heat, especially heat transformation, as well as from its waste-to-value approach. In this way, a customized, comprehensive energy concept can be developed for the companies located in the industrial park that is both economical and environmentally friendly.
COMPETENCE FOR MULTI-CLIENT SITES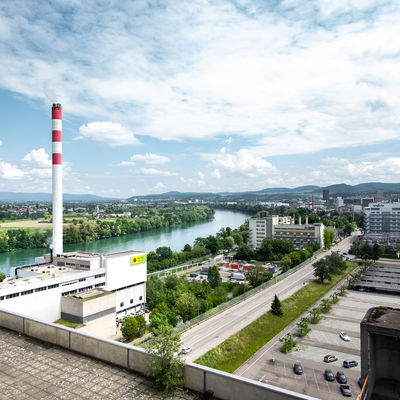 Multi-Client-Site GETEC PARK.SWISS
The multi-client site GETEC PARK.SWISS near Basel bundles all infrastructure services, offers and competences into a comprehensive production and competence cluster for life science and chemical industry. With its trimodal connections and central location in Europe, the park offers an ideal environment for internationally active companies engaged in research, development and production. With its unique Waste2Value approach and fastest approval procedures for short ROI, the site optimally balances profitability and sustainability for its customers.
At GETEC PARK.SWISS, GETEC offers 50 hectares of infrastructurally optimally serviced land and real estate with a logistically ideal location connected to road, water and rail. In addition to existing buildings that can be adapted to customers' requirements, our customers can also be offered freely available space.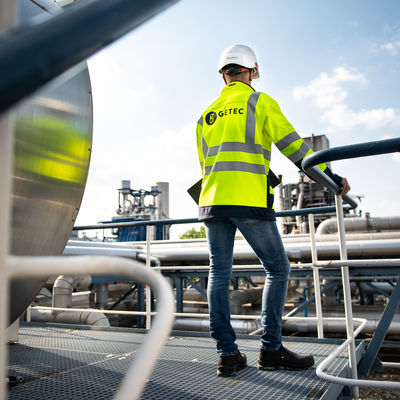 Multi-Client-Site GETEC PARK.EMMEN
On an occupied area of 115 hectares, the multi-client site in Emmen bundles all the competencies from 65 years of infrastructural services into a comprehensive production and competence cluster for the chemical, plastics and polymer industries. With its network of competencies, ideal accessibility and the highest industrial concentration in the northern Netherlands, the multi-client site offers an optimal environment for internationally active companies in research, development and production. With its specialization in the recycling of plastics and the production of biopolymers, GETEC PARK.EMMEN played a key role in the polymer revolution. A total of ten production plants in the biochemical, fiber and polymer industries employ around 2,100 people on site. More than 27 hectares of expansion space are available at this highly attractive integrated site, also for new settlements.

TALK TO US ABOUT THE POSSIBILITIES.
Together we will find the energy solution that is right for you.
Multi-Client-Sites Friedrichsort and Zeitz
Back in 2001, GETEC took over the Friedrichsort multi-client site in Kiel, Germany. Here, GETEC assumed full responsibility, including for the functional and cost risks for energy and media supply as well as plant and facility management within the scope of individual contracting solutions for industrial park customers. With around 1,200 employees and 65 hectares in size, the industrial park represents a major industrial center and an important employer in the greater Kiel area.
At the Zeitz Chemical and Industrial Park, GETEC supplies several local companies with heat, steam and electricity from cogeneration plants it built itself. As part of the contracting, GETEC planned, built and financed the power generation plants and continues to be responsible for their operation and service. For chemicals company Radici, GETEC also developed an individual solution in its waste-to-value approach to thermally recycle the climate-damaging nitrous oxide produced in production and substantially improve the customer's carbon footprint.
Your contact person
We embody partnership –
find your contact.
With more than 70 locations throughout Europe, we are always at your doorstep.
Contact us. We are here for you.

Contact